Materials provide updated results in environmental sustainability, community outreach and employee health and wellness
QUÉBEC CITY – (Aug. 31, 2017) – Québec Linge,a leading textile rental services and supply company in Québec, today announced the availability of its 2017 Corporate Responsibility Report, as well as a new online resource that summarizes its sustainability efforts across the company. The materials outline the latest results of key programs and initiatives that support Québec Linge's commitment to the environment, the health and safety of its employees and the well-being of the local communities it serves.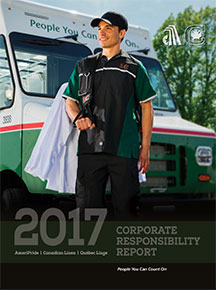 "Our third annual Corporate Responsibility Report offers a detailed look into our sustainability initiatives, while the new online resource provides a high-level snapshot of our programs," said Bill Evans, President and CEO at Québec Linge. "We're excited to share both of these resources with our key stakeholders and partners to demonstrate the safer, more efficient business practices we have in place that respond to the growing demand for action and transparency and have a meaningful impact on our people, planet, and communities."
Company achievements outlined in the report include:
Fleet enhancements and alternative-fuel vehicles have reduced CO2 emissions by nearly 2,000 metric tons.
Solar power in processing plants has reduced CO2 emissions by 232 metric tons per year.
Telematics technology in delivery vehicles has decreased speeding and increased seatbelt use by 98%.
In the past three years, 3,100 employees have donated nearly 15,000 volunteer hours and the company has contributed more than $1.7 million in monetary and product donations.
The CR report and "snapshot" are both available online at https://www.quebec-linge.com/a-propos-de-nous/responsabilite-dentreprise and the report can also be requested in hard copy.
About Québec Linge
Québec Linge is a part of Canadian Linen and Uniform Service, one of the largest textile rental and supply companies in North America. Operating more than 115 production facilities and service centers throughout Canada and the U.S., the company provides linen and towels, uniforms, floor mats, restroom and cleaning products to nearly 150,000 customers through rental and purchase programs. As a true business partner, Québec Linge helps customers improve their image while keeping facilities clean and employees safe. Innovation, personalized service and a dedication to company values has sustained the private, family-owned company for more than 125 years. Demonstrated commitment to customers, the community, employees and the environment has made Québec Linge the People You Can Count On. Additional company information can be found at www.quebec-linge.com.