Billing & Invoicing
When it comes to billing and invoicing, Québec Linge's new Customer Portal is simply the easiest way yet to view and pay bills online, see a list of your services, and connect with your service team: it's available 24/7 through your computer, laptop or smartphone.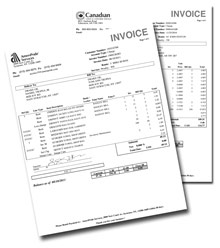 In addition, our data management system makes precise billing an industry standard. By monitoring changes in your service program, we can make automatic adjustments and better manage your needs.
Handheld technology is another element of our service. Additional uniform wearers, exchanges, and inventory and size changes – we capture it all instantly on handheld devices when visiting your location.
---
Access to invoices to easily download
Ability to pay your invoices online
A current list of your services and products
Your next delivery date
Contact information for your customer service team
Statement features include:
Québec Linge

contact information for assistance
Statement number, date and payment terms for your records
Listing of invoice number, date, description and amounts; sub-totaled by delivery location - perfect for tracking budgets and reconciliation
Current balance information and payment history for your last 4 payments
Streamlined invoices feature:
Québec Linge

contact information and remittance address
Invoice number, date, service day and 'bill to' and 'deliver to' names and addresses
Listings of wearers' names and delivered garments
Bank, locker number and billed quantity for each wearer
Employee number for each wearer, ideal for payroll deductions
Additional service items listed separately
Account balance information as of the date of the invoice
Signed copies of your invoices available for reconciliation
To easily access your billing and account information 24/7, visit the Customer Portal or contact the Accounts Receivable Office Monday through Friday, 7am-6pm CST at 800-675-6362.
Innovation is our passion, and it's another reason we're the People You Can Count On.® Contact us now to start receiving first-rate service, first hand, from Québec Linge.